Flowers For All Occasions
Weddings
Gift Baskets
Delivery Details
Funeral Flowers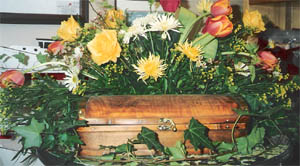 At the Village Florist, we believe that funerals should celebrate and honour the life of a loved one.

We take time and care to customize our funeral arrangements to the personality of the person who has passed. For example, to commemorate an avid fisherman, we built an arrangement around a tackle box. For a musician, we used a guitar. We have also created custom shapes such as anchors and hearts completely out of flowers. Let us know what you would like to see and we can create it.

We can also provide more traditional funeral flowers such as wreaths, pillows and casket sprays.

Upon request, we can deliver the arrangements directly to the funeral home or church. We also place flowers on grave sites.

Click on any thumbnail below to see samples of funeral arrangements.





&nbsp